3ParkOnStreet

Regulated parking management
Nowadays, shopping areas suffer a low vehicle rotation because they stay parked for a long time.
3ParkOnStreet is an online regulated parking system that solves these parking problems, causing higher turnover. It is geared for both free and pay parking areas, and involves businesses to operate.
This smart parking on-street system offers different parking methods: a mobile app, the shops on their own and parking meters. They can work together or separately, and all are connected to the same online backend, with a control center that provides an efficient street parking control from a single place.
This control is supported by automation. App, shops and parking meters reported in real time the parked vehicles, avoiding fraud. This allows users to know the number of places available, offering a improvement of city traffic and mobility.
3ParkOnStreet
architecture
App
Drivers can view available spaces and park by their mobile.
Shops
To increase activity, businesses operate as parking meters.
Parking meter
Traditional parking method for those users who don't use the app.
Control de aparcamiento minusválidos
Exclusive spaces where only can park authorized vehicles.
Control center
A web panel that allows control and management the regulated parking from a single point.
Parking control app
An app for pay and display area controllers that offers greater control of fines and effectiveness.
Smartphone App 

Mobile features for pay and display area
Drivers download the app on their phone, which acts as a portable parking meter. It is aimed to facilitate parking to drivers and improve mobility in the city.
Its main advantages for users are on one hand, saving time, because it is possible park with it, replacing the parking meter. On the other hand, drivers can see which regulated parking area has available space, representing a reduction of vehicular traffic.

Location and availability
The app located on a map all controlled parking zones connected to the system. Drivers will know the rates thereof, the maximum time and availability of places.

How to get there
Through GPS, the application can guide users to the regulated parking area they have selected.

Payment as parking meter
Users can set a time and pay the pay and display area with the app and the balance that has associated in it, bypassing the meter. If the regulated parking area is free, users report that they have parked.

Disabled spaces control
Disabled people may search specific spaces for them, and how many are available.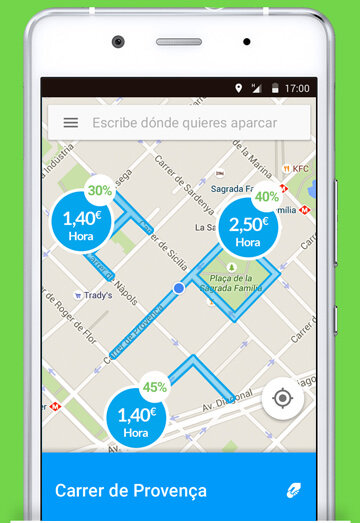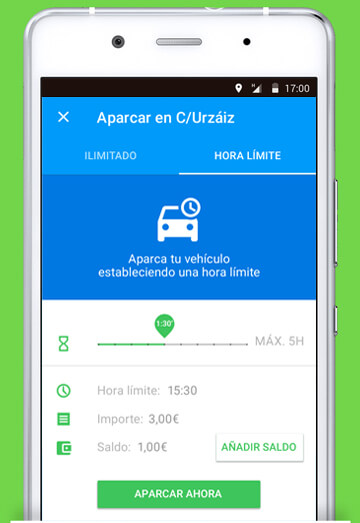 Shops

The closest parking meter
For drivers who don't use the app, the shop acts as a parking meter. Each shop have an exclusive app connected to the system, which indicate the vehicle license plate that wants to park.
Park vehicles
When driver parks the vehicle, he immediately goes to the nearest shop, which act as the parking meter and notify the parking to the system.
Give parking time
If the regulated parking area is payment, businesses can give parking time to drivers who buy in them, increasing consumption.
Parking meter connected

Traditional payment in pay and display areas
Parking meter works as a traditional alternative to those drivers who don't use the app or shops to park.
This smart parking meter is connected to the Control Center using WiFi or GPRS. When a driver parks, he enters the license plate of his vehicle, sending this information immediately to the Control Center.
Advertising claim
While it isn't active, the parking meter can display on its screen different advertising messages like "Use the app to park" or "encourage a sustainable city".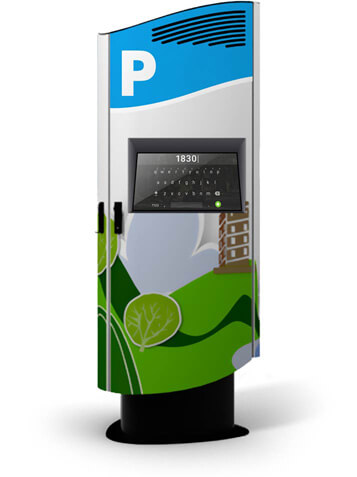 Control center

Regulated parking control
The Control Center is based on a web environment. Through its interface is possible to monitor and manage all regulated parking zones connected. As a result the efficiency is increased and better parking control is achieved.
Parking meters, the user's app and the business's app report when a new car parks in real time, which is license plate and how long it will be stationed. And controllers report from their app all violations found immediately.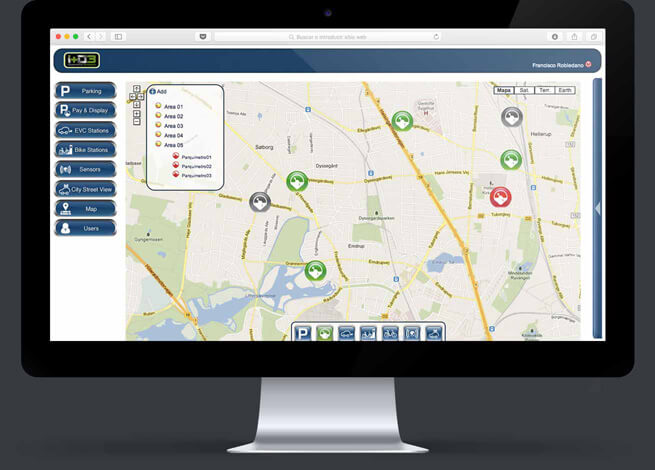 Alarms and events
The Control Center receives different alarms and warnings from parking meters that require immediate solution.
It also receives all notices that controllers report from their app in real time.
Map
Control Center has a map that displays the different elements connected, grouped into areas.
App for controller

Efficient control of regulated parking areas
Regulated area controllers will have an app connected to the system and the parking meters. Through it, they can fine the vehicles and issue time tickets to drivers, improving efficiency and control.
All notifications generated by the controller are automatically sent to the Control Center.
To fine
The controller will fine drivers who haven't notified or have exceeded parking time, adding the license plate, car model and color.
Image Capture
Controller can take photos and associate them to an infringement.
To park
The controller may issue time tickets to drivers. He just needs to choose the time the user wants to be parked.
Notifications
If the driver leave before controller gets there, the parking meter will notify it.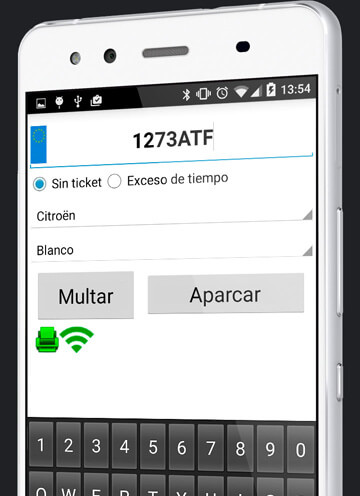 The controller's app is connected to a wireless portable printer, which will print the fines and time tickets.
Reroute from regulated area to car park
If a regulated area is full or the user wants to exceed the allowed parking time, it is possible to reroute them to nearby car parks connected to 3SCPark as an alternatively parking.


Real control of parking online.

Increase rotation in commercial areas.

Increased consumption in shops.

Users save money with the time that shops give.

Drives saves time because they know where are available spaces.

Less pollution because it reports available spaces.