Ecopark 

Parking Monitoring System
Ecopark is more than a guidance system, Ecopark is the 5 senses of
parking. A complete monitoring system for parking lot that, thanks to
different sensors distributed throughout the installation, allows you to
control large amounts of information.
Sensors are the eyes, ears, nose, touch and taste of the parking lot,
obtaining data such as occupation, moving images, temperature or
pollution level. All controlled from a panel from which you can view all the
information and receive alerts. Ecopark also includes a Led signs system to show users information about parking lot, giving a better service.


Control panel
The place from where the parking lot is motorized. It gets all the information captured by the sensors, such as occupation or temperature, and controls it in real time.

Sensor
In addition to informing customers if a place is free or occupied, they have different detectors inside that capture data such as pollution, humidity or images.

LED panels
Different signs distributed inside the parking lot to display users variable information such as occupation, signage, advertising or warnings.
Ecopark sensors are the senses of car park. These small spheres have inside many detectors that capture a variety of information about facilities. All this information collected allows to have a better control of the car park, so that everything works correctly.
The sensors are placed on top of each parking space, and in addition to working as detectors, they work as guidance system, signaling if the parking space is occupied or free by LED light.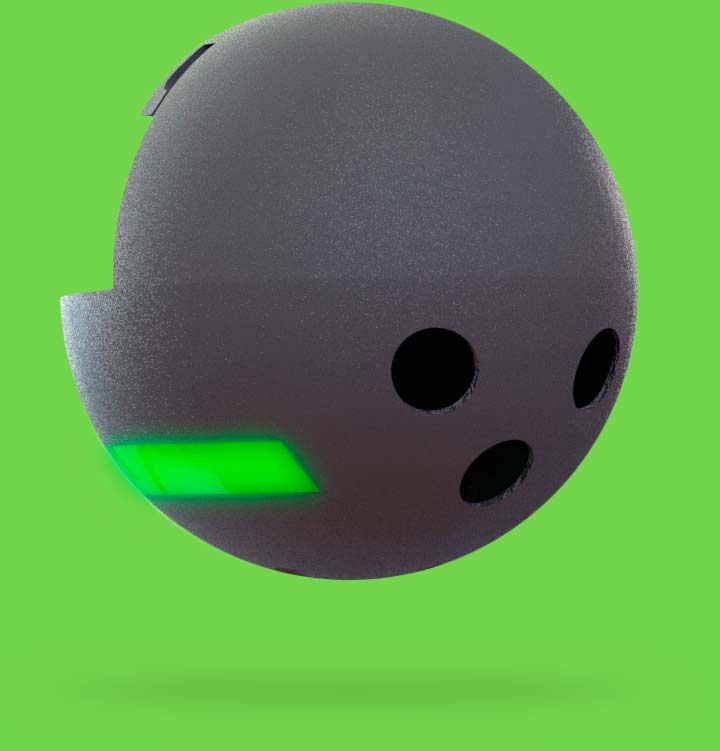 Occupation detector
An ultrasonic detector senses if there is a vehicle in the space in which it is placed. It integrates a LED light that tells drivers this availability.
Camera
It records images for greater control and security.

Temperature sensor
A detector senses the temperature to warn of fires.

Pollution sensor
It integrates different sensors to detect the main gases emitted by vehicles: CO, CO2, NO, NO2 and hydrocarbons.

Humidity sensor
It collects information about the percentage of parking lot humidity.

Noise sensor
A microphone receives the loud noises.
Control panel

Cark park monitoring
The panel allows monitoring all data and parameters that the sensors capture in a very visual way, in a map. The data is received in real time, and you can receive alerts immediately if something is wrong.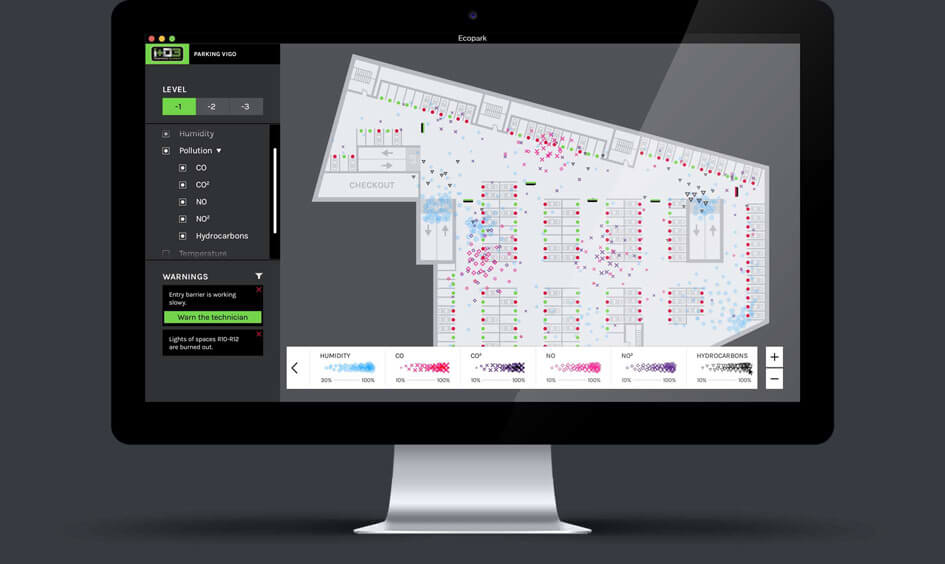 Occupation
Shows which spaces are occupied and what spaces are free.

Noise
Captures high-decibel noise, can warn of a possible accident.

Humidity
Shows the humidity percentage of each parking area.

Pollution
Levels of different gases. When the rate is high, warns to activate the ventilation system.

Temperature
It shows the high temperature values, warning of a fire.

Luminosity
Allows to see what lights are on/off and control it from here.

Warnings
Displays warnings and messages that may be important to do different actions.
LED panels

Modular displays
The LED panels allow to display variable information with high image quality, color and brightness, to provide customers a better service. Here we detail the different features of the LED panels on the Ecopark system.
Occupation
LED panels display the occupation of each aisle, indicating to users the number of available spaces and the location of these by arrows.

Car park condition
Led panels display the information capture by the sensors. These data are humidity, temperature, pollution and air purity level.
This information can be displayed in conjunction with other features, such as occupation or signage.

Signale
You can use the LED panels as dynamic signage, and change the display to show advertising messages or warnings.
Adverts
LED panels can change the information that display according to a set time. This allows sponsoring the parking lot, showing adverts of shops and malls near the parking lot. Or if the parking belongs to a mall, it's possible to display different ads depending on the floor or parking area.

Warnings
Led panels can show different fixed warnings or appear in a given time activating them manually or automatically, replacing for a moment what the led panels are showing.
Warnings may be to indicate that a lane is close, to indicate the speed limit, to warning about a fire and indications to leave the facilities or to indicate a driver that he has exceeded the speed limit.

Signals
Thanks to the modularity of the LED panels, there are many possibilities to signal the car park and communicate its availability.
The possibilities range from a panel that displays the places available or a vertical panel that informs the occupation of each level.